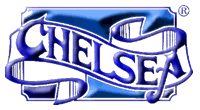 All production design is expressed in classic and austere styles that recalls the Roman Empire, Victorian and English colonies, and shapes related to the Russia of the Tsars, fantastic decorations style from art nouveau and art decò.
Chelsea objects and jewelry are present in approximately 1000 stores in Italy and abroad: USA, Russia, Europe, North Africa, South America, Cina ecc.
The particularity of the Chelsea creations have attracted the attention of the media press and cinema operators.
Many people have commissioned pieces for movies and for magazines articles.
Chelsea was founded in Rome in the far 1983 the name of company was Chelsea sas, the first location was in Rome, 86-90 Via di Priscilla, in the elegant "Trieste" district of the capital of Italy.
The London location was at Clare Court Judd street.
In 1998 Federico Saccani changed the company name in Chelsea di Federico Saccani.
In 2005, Federico decided to move the showroom, offices and warehouse in a villa at the north of Rome within the "Veio" natural and historical park. This big residence was the historic home of the Saccani family, at themoment inhabited by the third generation.
In 2003-2004 was structured by Federico for the company needs.
At the end of 2014 Chelsea move to Malta with the new name Chelsea & Co LTD.